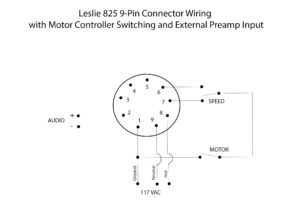 This setup can easily be mounted in a 1590B Hammond box  with IEC connections for power, a 1/4″ TS audio input, and even a TRS jack for a remote footswitch.
Don't forget the fuse in your build! The main Motor switch on the schematic is optional but could be useful if you want to use the Leslie without rotation otherwise the Leslie will always spin.
The 9-pin connector we used came from our stock of vintage oddities but you'll find them listed on eBay and Hammond has them in their catalog.
With this simple assembly, we've replaced the Leslie Combo II preamp with our version of the Alembic F-2B preamp– an exceptional upgrade!!!
Our Hammond M3 which was modified with an external output seems to pair much more nicely with the F-2B than with the Combo II.
But perhaps the greatest advantage to this arrangement is that the annoyingly bulky Leslie cable, no longer a necessity, has been replaced by lightweight guitar cable.
Here's the link to the Hammond External Output Jack Mod: https://noisemikers.com/external-output-for-hammond-spinet-with-level-control-and-speaker-switch/