NO, WE DON'T HAVE A STRIPPER POLE! (But thanks for asking.)

Quick Index:
Microphones
Rack Gear and Outboard Processing
Guitars
Amplifiers
Guitar Effects
Drums and Percussion
Computers and Digitalia
Keyboards, Organs and Pianos
Monitoring Solutions
Other Analog Oddities, Tape, and More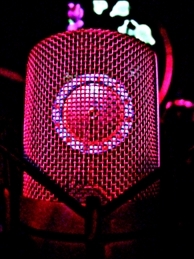 Inside our Mic Locker:
3U Audio Teal CM1
3U Audio Black CM1
3U Audio Warbler MK1
AKG C214 (A pair of these)
AKG D112
AKG Perception 170 (2 matched pairs of these).
Aston Microphones Spirit 
Audio Technica AT4050/CM5 
AT 2020 (a pair of these)
Audio Technica AT871R
Audio Technica AT891R-5 (Five of these)
Audix i-5 
Avantone Mondo
CAD PRO-7: KM212, TM211(x3), SN210, CM217(x2) 
CAD TSM411 (a quintet of these)
Carvin CM87s 
K-47 FET, Custom
M-Audio Sputnik tube microphone
Monoprice 600850 (w/ MicParts K67/87 Capsule)
MXL V250 
MXL 990 (modded)
MXL 990 (stock) (a few of these)
MXL 991 (w/ custom mods) (three of these)
MXL R40 Ribbon (Edcor RMX1 transformers)(two of these)
Oktava MK-012-01 (Five of these).
Oktava MK-319 (modified)(two of these)
Oktava MKL-2500 tube microphone (modified)
Reslo Ribbon 
Rode NT1A
Sennheiser e865, Condenser
Sennheiser e835 (two of these)
Sennheiser e838 (two of these)
Sennheiser e609 (two of these)
Sennheiser MD-421 U-5 (a trio of these)
Sennheiser MK4
Shure SM7B
Shure SM10A, Headset
Shure SM57 (several of these)
Shure SM58 (several of these)
Shure 522
Turner Dynamics S33D 
Drum Subkick, custom (Polk M5 spkr.)(two of these)
Plus misc. vintage "weirdo" mics...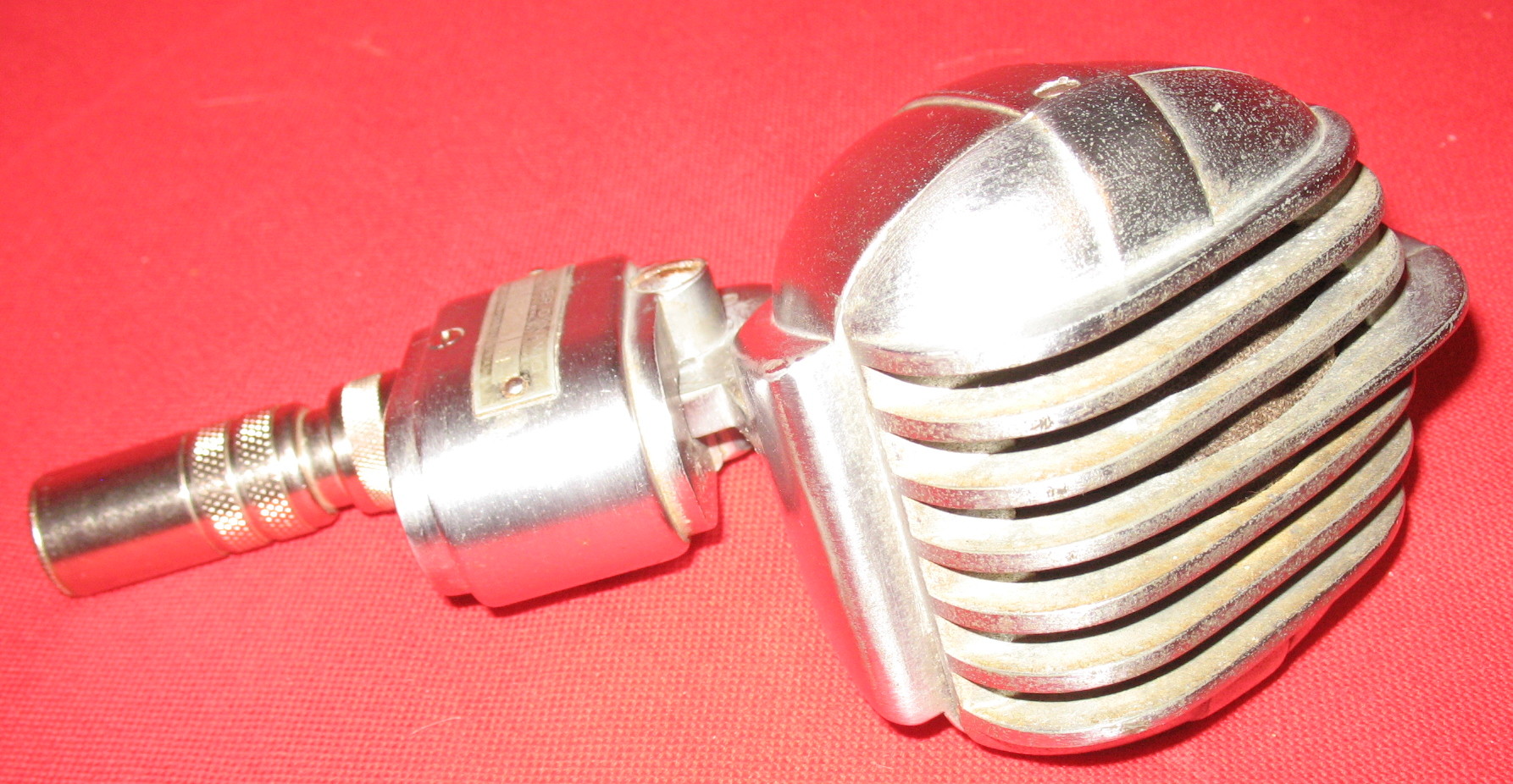 Outboard – On the Racks:
Behringer V-Verb Pro

 REV2496

 (Ver 1.2) (two of these)
Black Lion Audio Auteur
Golden Age Pre-73 MK II (two of these)
Grace Design M101
Warm Audio WA12
Warm Audio WA12 MKII
Aphex 107 Tubessence (Mullard/National 12AT7 tube)
Art Pro MPA ii (Three of these)
Shure M67 (Custom Mods)
Symetrix 528e
Tapco 4400 Spring Reverb
TC Helicon Voiceworks Plus
TNC ACMP-73 Preamp (Neve 1073)
Korg SSD-2000
Art Tube MP Studio (A few of these)
Art Pro VLA II Tube Leveling Amplifier
Ashly CL-50 Compressor (DBX 2150 VCA and upgrades)
Symetrix 501 Peak RMS Compressor/Limiter (THAT 2150A VCA)
Klark Teknik EQP-KT - Pultec style EQ
Klark Teknik KT-2A - LA-2A Optical Compressor
Klark Teknik 1176-KT-1176 Compressor
Biamp Quad Limiter
Furman Sound PQ6 Parametric EQ
DBX 231 EQ
Deltalabs Effectron Jr. 1050
Deltalab Effectron Jr. 350
Lexicon MPX 100 
Alesis Midiverb II
Yamaha RM800-24 - 24 channel 8 bus console
Yamaha MG166CX Console - 16 Channel
Mackie SR24-4 Console - 24 Channel
Direct Boxes, active and passive
"Wolfbox" Motown DI, custom built, UTC A-11
Cloudlifter, etc.
Radial SGI Studio Guitar Interface
Radial X-Amp Active Reamp Box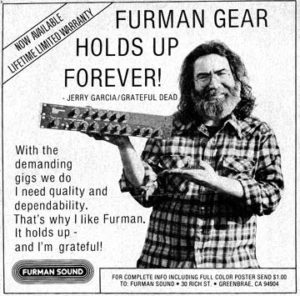 24 channel simultaneous  digital recording.

Rain Computers Ion A2 - Custom built for audio
Presonus Quantum Thunderbolt interface
Presonus Digimax LT adat audio interface
Behringer ADA8200 adat audio interface
Presonus Firestudio (x2) - 16 channels
Studio One 3 Professional 
Studio One 4 Professional is our preferred DAW.
Cubase 10.5 Professional

A versatile collection of quality vst and vsti plugins selected to meet every possible need.

OWC Mercury Rack Pro external hard drive backup

Electrical power to our control room is supplied by a commercial grade Liebert GXT2 Online UPS power system which provides our equipment with 

continuous

 clean,

 high-quality, uninterrupted and isolated sine wave power. 
Monitoring Solutions
Yamaha NS-10m  (Yamaha P2700 powered)
JBL LSR305 
Alesis M1 Active MK2 monitors 
Yamaha YST-SW215 Subwoofer

Furman HA-6A (modified) headphone amplifier
with several Furman HR-2 remote stations. 

Headsets include Koss, Sennheiser, AKG and many misc.

Vintage and modern playback systems include:
Dynaco, KLH, Advent, Infinity, Kenwood, Pioneer, Sansui
Our unique custom-built talk-back system provides you with great communication.
Keyboards/Controllers:
Hammond M-3 tonewheel organ #1 - 1959 "Baby B3" (recapped and modded)
Hammond M-3 tonewheel organ #2- Yet another 1959 "Baby B3" (This one is stock)
Leslie 825 rotating tremolo speaker cab with Leslie Combo II pre-amp
MTI Rotophaser - vintage rotary horn

Modern and vintage keyboards including the  Korg CX-3,
the Yamaha Keytar, a collection of Casios, etc.

M-audio Keystation Midi Controller 61es 61 Key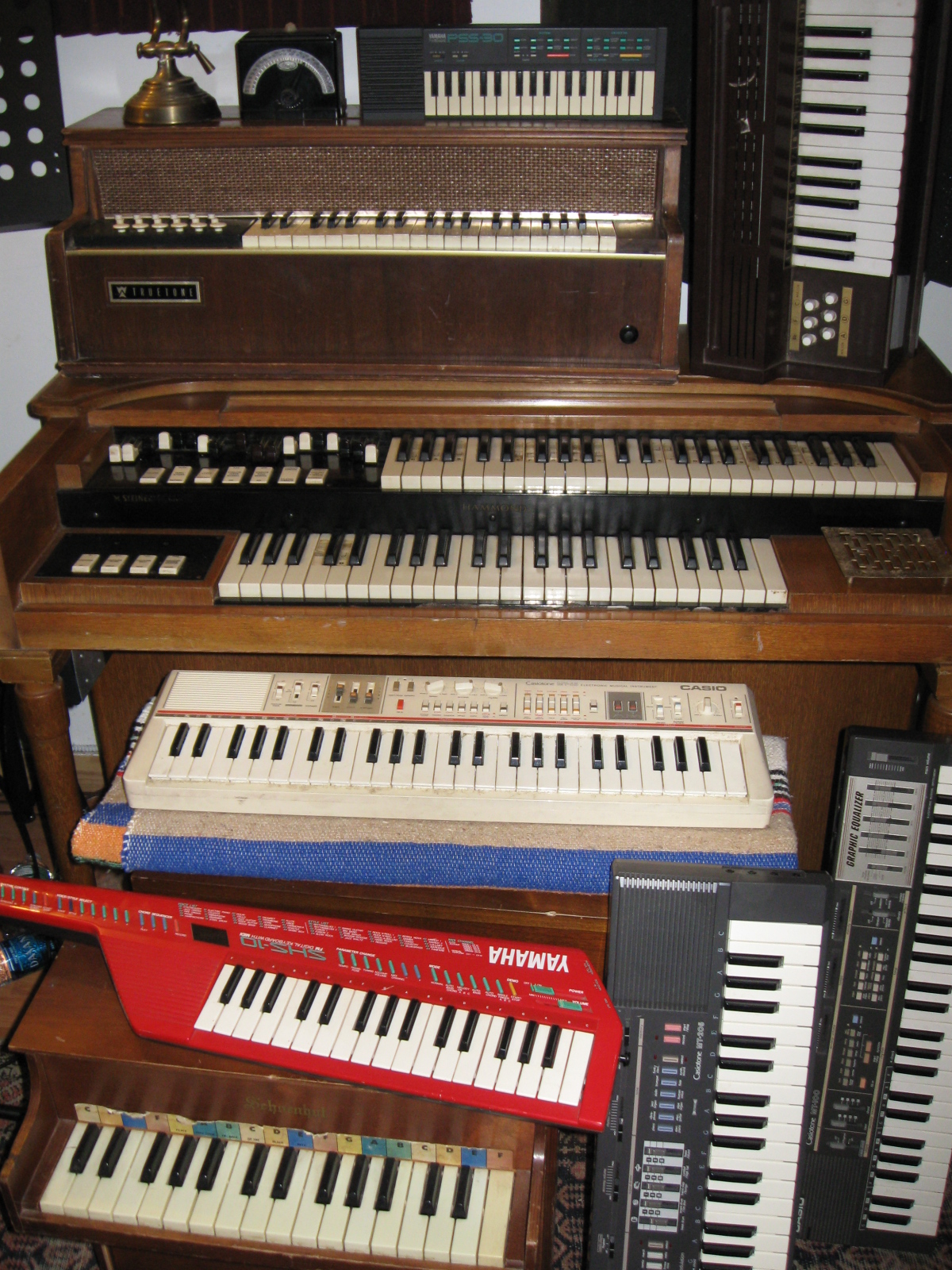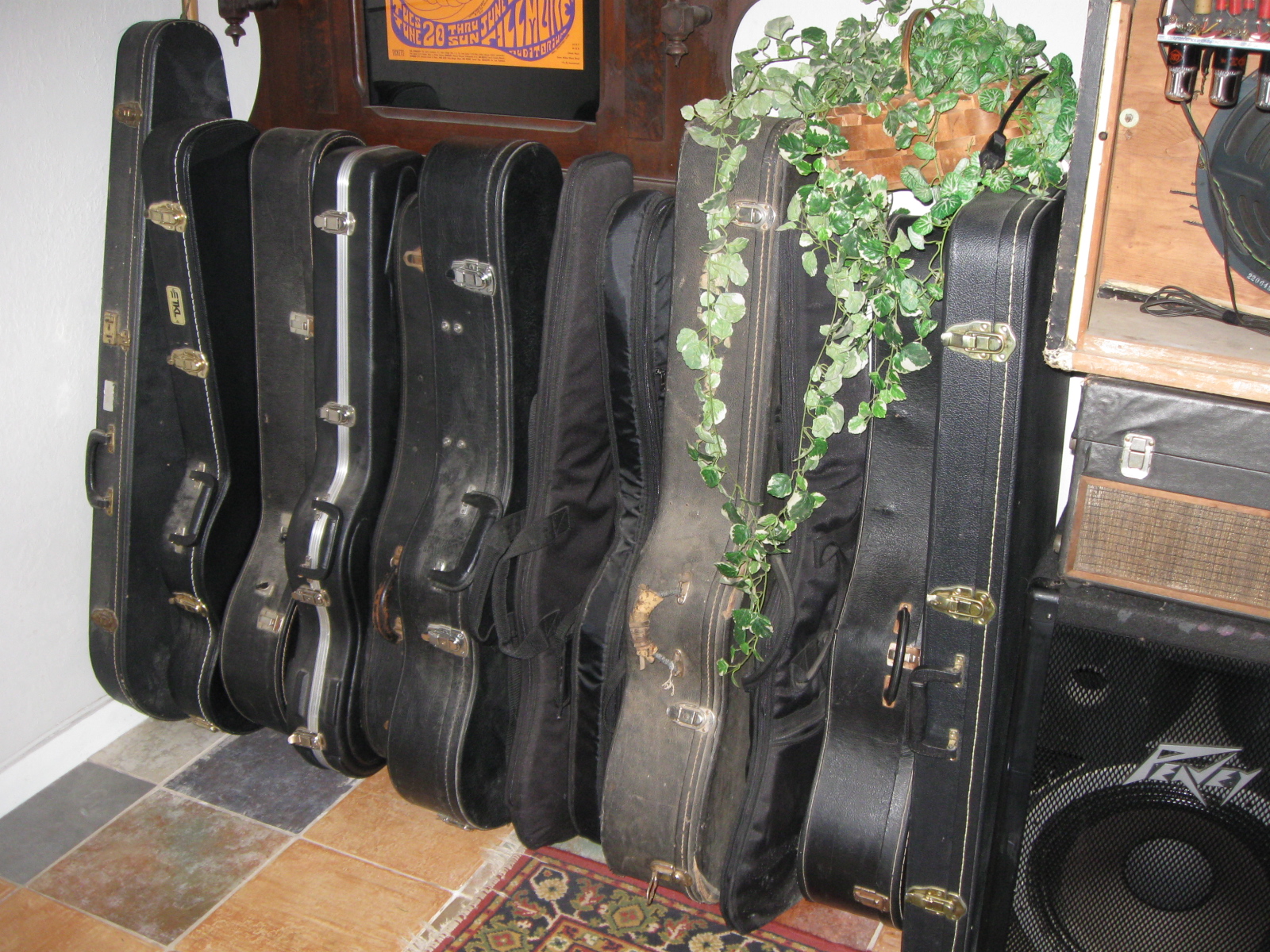 Guitars – What's in those cases?:
Ampeg Heavy Stud, ca. 1973 - 1975 (Ibanez Super 80 and vintage alnico) 
Danelectro Longhorn, 90's Korean Reissue bass
Danelectro Convertible Electric/Acoustic , Korean reissue guitar
Fender American Strat, Highway One
Gibson Les Paul Special 55 - 74, 1974
Gibson Les Paul Special (P90's)
Gibson USA Explorer, 2006 (496R, 500T pickups)
Gibson flattop LG-0, acoustic
Guild D25, acoustic guitar
Ibanez Roadstar II, bass
Ibanez Roadstar II, guitar, 1985 RS410
Liberty Custom Brass Resonator, acoustic
Martin DRS2, acoustic
Memphis, vintage 4 string bass
Ovation Tornado. Late 60's/early 70's with tremolo. Schaller pickups and hardware.
Schecter Diamond 006 Deluxe, electric
Univox Hi-Flier - Phase 2, ca. 1970, single coil P90's
Yamaha BB300 (active Seymour P/J pickups), bass
Bentley, 5 string banjo
Stella, tenor guitar
Rogue, RLS1 Lap Steel, C6 tuning
Appalachian (Mountain) Dulcimer
Also misc. vintage Teisco,  Matsumoku, Silvertone, Kay, Harmony, etc.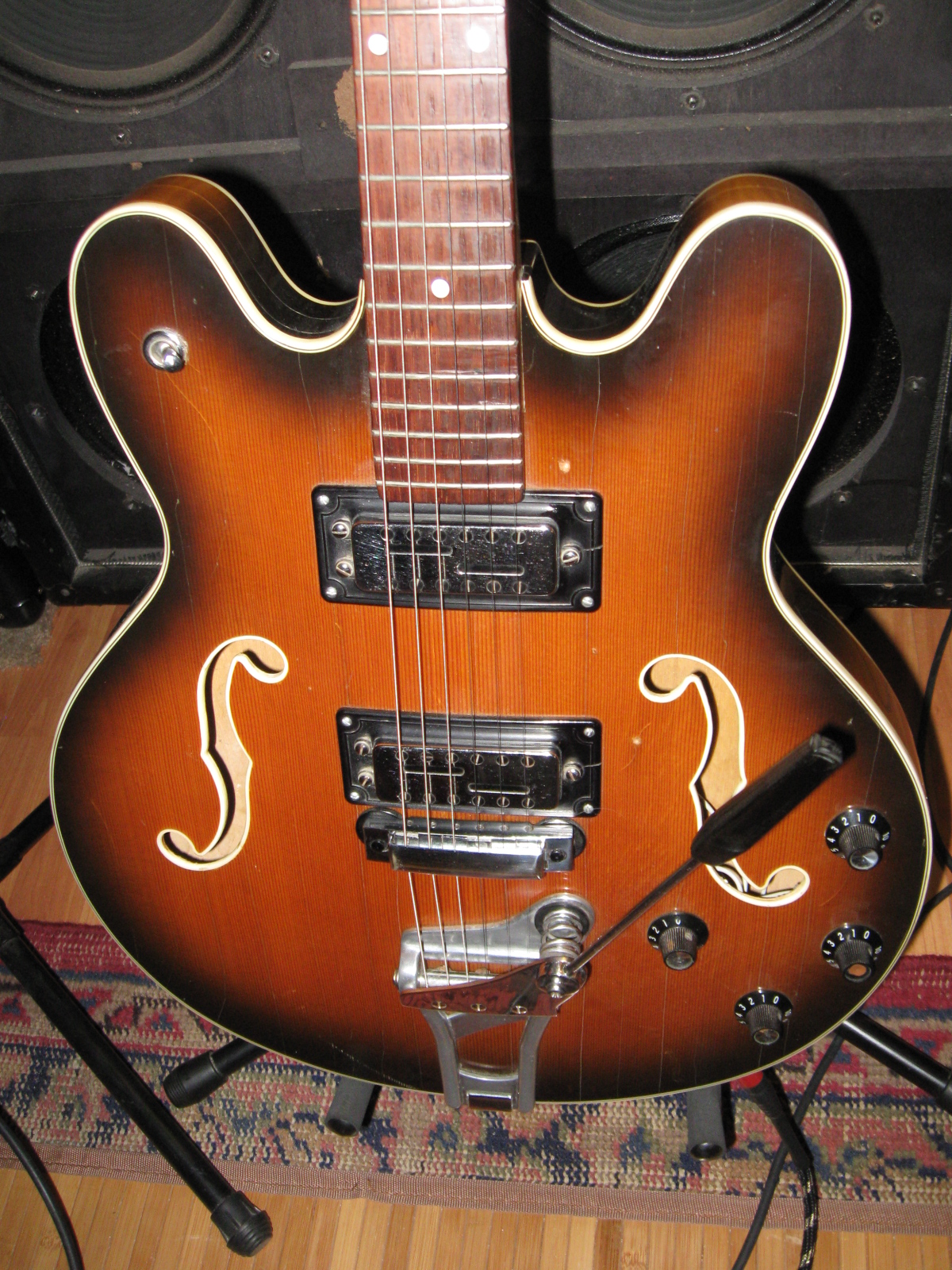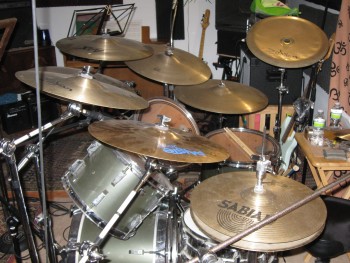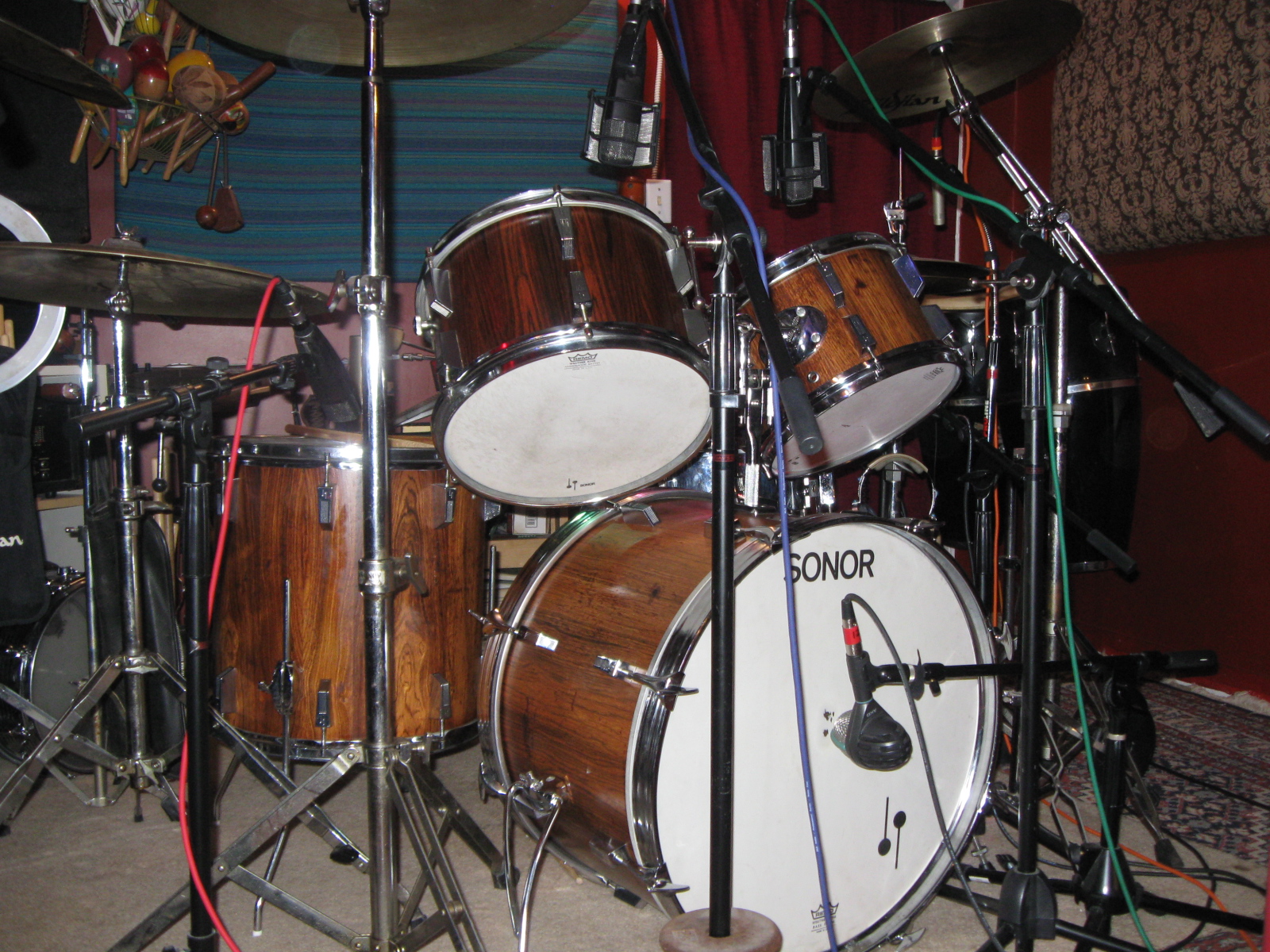 Drums:
Sonor Phonic (5 pc. Rock), 9 ply Beech. 13/14/16/22 Metallic Pewter. Circa 1979-1981. Purchased new from Bob Gatzen (of Evans fame).
Sonor Champion, (5 pc.), 6 ply beech. 1970. 12/13/16/22 Rosewood Finish. Rounded bearing edges.
Gretsch, Tony Williams Yellow Nitron, 70's Stop Sign (6 pc. Jazz). 12/13/14/16
Mapex, Mars, ca. 1995 "Yellow Flash" maple 5 pc. 12/13/16/22

with Zildjian, Paiste and Sabian cymbals 

Slingerland, Ludwig, Mapex, Sonor, Pearl, and misc. snares

Simmons SD7PK - Electronic/midi

Percussion: Congas, cajon, bongos, bells, tambourines, wood blocks, doumbeks, maracas, xylophones, rain sticks, shakers, cowbell, claves, guiros, vibraslaps, and more...
Amps:
Alembic F-2B Inspired Preamplifier/DI - a custom build
Ampeg B-15N Portaflex - a rare and early model of transitional design. Late 1960.

Read more HERE
Ampeg M-12 Mercury - mid 1957/mid 1958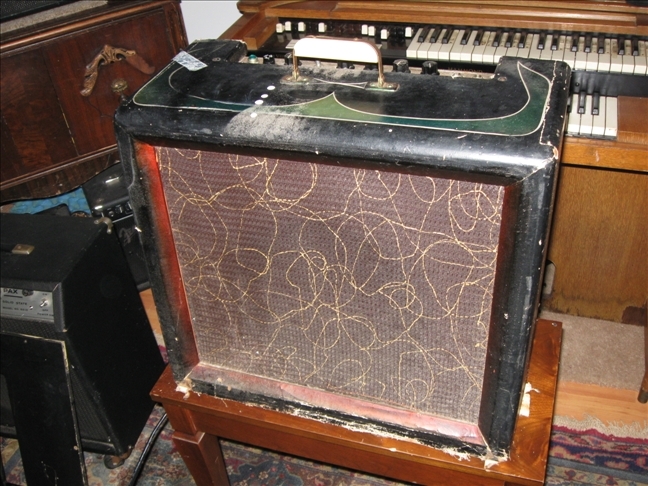 50's/60's 50EH5 Tube Guitar Amp, unknown brand.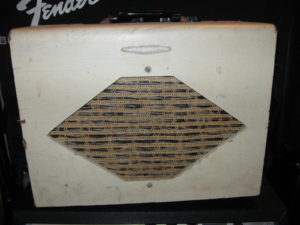 More about this amp HERE
Acoustic 136 bass combo, Peavey Black Widow
Bugera 333, with 6L6's
Cordovox Accordion Amp, 1962 - rebuilt as a custom guitar amp. Read the post about this amp HERE
Fender Bassman head, 1968 drip-edge silverface
Fender Twin Reverb, late 70's Silverface, 130 watt w/ Orange JBL D-series
Fender Twin Reverb-Amp, Blackface. Very early custom build. AB763 with 6G16 tremolo circuit.
Fender Champion 600, Mods and upgrades. Mercury Magnetics transformers. Classic tweed tone. 5F1
Music Man HD130 Reverb, mid 1970's
Gibson GA-15 RVT Explorer, 1966, 15w 1x10 El84 w/ trem and GREAT spring reverb
Carvin Valvemaster 212
Marshall JCM900 Hi Gain Master Volume MkIII (model 2100), 1990 half stack. Transitional model produced only for two years. Not to be confused with later JCM900's.
Marshall Lead 12
Marshall 2099, rare '75 metal-face bass head
Mesa Boogie Studio .22 Plus w/ eq.
Orange Crush 20L
Peavey Valveking 100
Roland Jazz Chorus JC77
Silvertone 1482, mid 1960's
Supro 1600R Supreme, circa 1961.
An amazing amp. Built around the Valco 6400 circuit, this version is quite different from the recent "re-issue" of the Supro 1600 Supreme which utilizes 6v6 power tubes. Modified to replace the expensive and difficult to find 6973 power tubes, a duo of tonally similar EL84's give this amp an exceptional gritty "break-up" perfect for classic rock and blues.
Cabs:
Marshall 1960A JCM900, 4x12 Celestion G12 T75 (England)
Peavey Valveking 4x12, birch w/ stock VK1216 vintage 30 voiced speakers
Fender Bandmaster 2x15, Blackface era
Traynor YGC-412, '70's 4x12 w/ Eminence
Leslie 825 with preamp
MTI Rotophaser

and more...
Stompboxes and Pedals:
Multivox Premier 90 Spring Reverb -  vintage 60's tube driven spring reverb.

Too many pedals to list.

Boss DS1 Stock, Boss DS1 Wampler Marshall Mod, EHX Little Big Muff, EHX LPB-1, EHX Dr. Q, Ibanez Tubescreamer TS 5/7, MXR Phase 100, Zakk Wylde Wah, Vox Wah, DOD FX-17 Wah, Arion Flanger, Blues Driver, Boss CH1 Chorus, Boss CE3 Chorus, Pigtronix Philosopher's Rock, Ross Distortion...

AND DOZENS OF CUSTOM BUILT PEDALS including unique original designs.

along with clones of the Klon Centaur, Boss DM-2, Marshall Bluesbreaker, Vemuram Jan Ray/Timmy, Mutron III, Maxon OD808, Zen Drive, Boss OD1, Dan Armstrong Orange Squeezer, Green Russian, Rub-A-Dub-Dub Deluxe Reverb, Rebote 2.5 Delay, Nobels ODR-1, Ibanez Super Distortion, and MXR Distortion +, S. Hawk Ltd., and more...
Additional instruments, amps, effects and outboard gear available.
We've also got an extensive collection of ethnic and vintage toy instruments:

Pollard/RDS Syndrum CM , Maestro USS-1 guitar synth, Magnus Chord Organ, mbiras, flutes, brass and other wind instruments.
Our analog audio tape gear includes:
Fostex E-8 8-track recorder, Tascam 424 MKIII multi-track cassette recorder along with other reel to reels:

AKAI 77, TEAC X-3, Teac A-1200U, Teac A-2300 sx, Akai GX4000D, vintage Roberts tube quarter track AND 8-track(!) cart recorder.